---
The Quiet Space Guide
Welcome to the Quiet Spaces Guide. We created this resource to make it easier to find a quiet space in which to study, wherever you are on campus.
In recognition of the social distancing requirements currently in place, the Division of Academic Affairs created this list of study spaces to reflect the reconfigured use of classrooms and facilities as well as outdoor spaces (updated Jan. 2021). We've sorted that list by indoor and outdoor.
We hope you will find this resource valuable, whether you reserve a table at McKeldin Library or find an open bench in a shaded courtyard.
If you have a quiet space you would like to contribute to this guide we would like to hear from you. Email the location to lcech@umd.edu.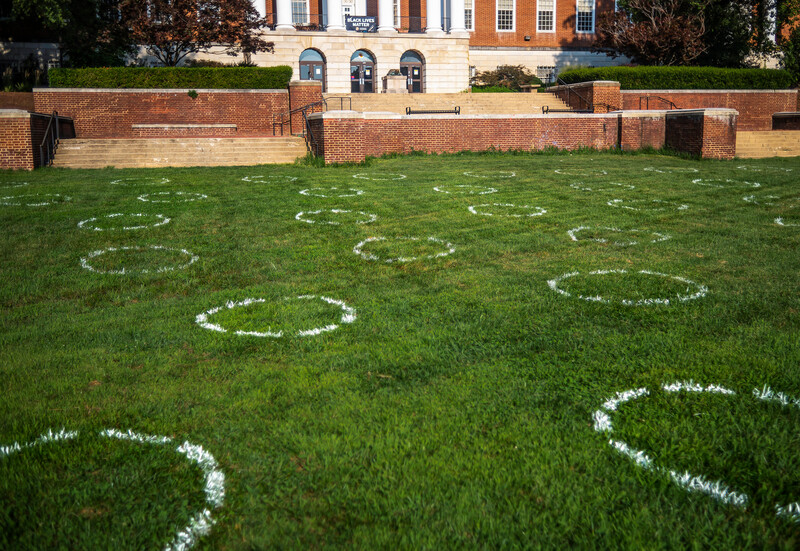 Select one of the following tabs to see a list of quiet spaces:
Building
Room
Description
Furnishings
Hours
Reservation Required?
<
Architecture
1101
Study Room - GPC
tables and chairs
M-F (8a-5p)
No
Architecture
1103
Study Room - GPC
tables and chairs
M-F (8a-5p)
No
Chem-Nuc
1236
Study Room - GPC
tablet armchairs
M-F (8a-10p)
No
Chemistry
2118
Study Room - GPC
tablet armchairs
M-F (8a-10p)
No
Clarice
N/A
Seating behind Applause Cafe
tables and chairs
M-F (7a-8p)
No
Clark Hall
1101
Forum
tables and chairs
M-F (8a-6p)
No
CSIC
2118
Study Room - GPC
tables and chairs
M-F (8a-10p)
No
CSIC
1198
Ground floor concourse
perimeter benches, laptop counters
M-F (8a-10p)
No
ESJ
0294
Sculpture Lounge
soft seating, benches, and tiers
M-F (7a-7p)
No
ESJ
0298
Ground Floor Common
tables, stools, soft seating
M-F (7a-10p)
No
ESJ
1292
Campus Drive Lobby
tables, stools, soft seating
M-F (7a-10p)
No
ESJ
1295
First Floor Atrium Lounge
tables, stools, soft seating
M-F (7a-10p)
No
ESJ
1298
First Floor Concourse
tables, stools, soft seating
M-F (7a-10p)
No
ESJ
2291
Second Floor Lounge
benches, stools, soft seating
M-F (7a-10p)
No
ESJ
2298
Second Floor Concourse
tables, stools, soft seating
M-F (7a-10p)
No
ESJ
B0398
Basement Lounge
tables and chairs
M-F (7a-10p)
No
H.J. Patterson
1125
Global Commons
tables, chairs, soft seating
M-F (7a-10p)
No
Hornbake
0302
Open Study Commons
tables, chairs, soft seating
M-F (8a-5p)
No
Hornbake
N/A
Wing 2 lobby-first
tables, chairs, soft seating
M-F (8a-5p)
No
Hornbake
N/A
Wing 2 lobby-ground
tables, chairs, soft seating
M-F (8a-5p)
No
Hornbake
N/A
Wing 2 lobby-second
tables, chairs, soft seating
M-F (8a-5p)
No
Hornbake
N/A
Wing 2 lobby-third
tables, chairs, soft seating
M-F (8a-5p)
No
Iribe
0298
Ground Floor Lobby
soft seating, tables, counters, stools
M-F (7a-10p)
No
Iribe
2135
Second Floor Open Study
tables and chairs
M-F (7a-10p)
No
Iribe
2231
Second Floor Open Study
tables and chairs
M-F (7a-10p)
No
Iribe
N/A
First Floor Concourse
tables, chairs, stools, soft seating
M-F (7a-10p)
No
Kim Engineering
1198
Lobby
tables and chairs
M-F (8a-5p)
No
Kim Engineering
1296
BioEngineering Lounge
tables and chairs
M-F (8a-5p)
No
Kim Engineering
2192
East Lounge
tables and chairs
M-F (8a-5p)
No
Kim Engineering
2250
Lockheed Martin Study Lounge
tables, chairs, soft seating
M-F (8a-5p)
No
Kim Engineering
2192
West Lounge
tables and chairs
M-F (8a-5p)
No
Knight Hall
1295
Ground floor concourse
soft seating, counters and stools
M-F (8a-5p)
No
Marie Mount
1399
Atrium
Upholstered benches and side tables
M-F (8a-5p)
No
McKeldin
First Floor
First Floor Study spaces
Soft seating, tables and chairs
See website
Yes (click to reserve)
Plant Sciences
1119
Study Room - GPC
tablet armchairs
M-F (7a-10p)
No
School of Pubic Health
N/A
First floor concourse
soft seating, tables and chairs
M-F (8a-5p)
No
School of Pubic Health
N/A
Ground floor concourse
soft seating, tables and chairs
M-F (8a-5p)
No
STAMP
0208
Student Involvement Suite
tables, chairs, soft seating (collaborative)
See website
No
STAMP
0240
Baltimore Room
tables and chairs
See website
No
STAMP
1105
West Lounge/Reading Room
tables and chairs
See website
No
STAMP
2108
Pyon Su
soft seating
See website
No
STAMP
2299
2nd floor student lounge
soft seating
See Website
No
Tawes Hall
1321
Study Room - GPC
tablet armchairs
M-F (8a-10p)
No
Toll Physics
1201
Study Room - GPC
fixed tables and chairs
M-F (8a-10p)
No
Toll Physics
1402
Study Room - GPC
tablet armchairs
M-F (8a-10p)
No
Toll Physics
1199
First Floor Lobby
tables, chairs, benches
M-F (8a-10p)
No
Tydings Hall
1108
Study Room - GPC
tables and chairs
M-F (8a-10p)
No
Tydings Hall
1114
Study Room - GPC
tables and chairs
M-F (8a-10p)
No
Tydings Hall
1198
First floor lounge
upholstered seating
M-F (8a-10p)
No
Van Munching Hall
1202
Study Room -Smith School
table and chairs
M-F (8a-8p)
No
Van Munching Hall
1206
Study Room -Smith School
table and chairs
M-F (8a-8p)
No
Van Munching Hall
1207
Study Room - GPC
fixed tables and chairs
M-F (8a-8p)
No
Van Munching Hall
1505
Study Room -Smith School
table and chairs
M-F (8a-8p)
No
Van Munching Hall
1520
Study Room -Smith School
table and chairs
M-F (8a-8p)
No
Van Munching Hall
N/A
Ground floor concourse
soft seating
M-F (8a-8p)
No
Building
Room
Description
Furnishings
Hours
Reservation Required?
Architecture
N/A
Patio adjacent to Mall
picnic tables and benches
Outdoor location
No
Architecture
N/A
Plaza
tables and benches
Outdoor location
No
Chemistry
N/A
Courtyard
tables and chairs
Outdoor location
No
Clarice
Clarice Courtyard
Clarice Courtyard
tables and chairs
Outdoor location
No
CSIC
N/A
Plaza
tables and chairs, benches
Outdoor location
No
EDU
N/A
Benjamin Building Courtyard
tables and chairs, benches
Outdoor location
No
F.S. Key
Courtyard
Courtyard
benches, steps
Outdoor location
No
Hornbake
N/A
Sunken Courtyard 1
tables and chairs
Outdoor location
No
Hornbake
N/A
Sunken Courtyard 2
tables and chairs
Outdoor location
No
Jimenez
Courtyard
Courtyard
benches
Outdoor location
No
Kirwan Math
N/A
Fountain Plaza
seating ledge, no furnishings
Outdoor location
No
McKeldin
N/A
McKeldin Mall
benches, chairs
Outdoor location
No
Memorial Chapel
N/A
Garden of Reflection and Remembrance
benches
Outdoor location
No
Physical Science Complex
N/A
Plaza
benches
Outdoor location
No
Riggs
N/A
Moxley Gardens
benches
Outdoor location
No
Tawes Hall
N/A
Tawes North Patio
tables and chairs
Outdoor location
Available starting 9/14
No
Tydings Hall
N/A
First Floor South Patio
tables and chairs
Outdoor location
Available starting 9/14
No
Tydings Hall
N/A
Ground Floor North Patio
tables and chairs
Outdoor location
Available starting 9/14
No
Woods Hall
Courtyard
Courtyard-behind building
tables and chairs
Outdoor location
Available starting 9/14
No