Lt. Richard W. Collins III
Scholarship
The University of Maryland pays tribute to the life and honors the memory of 1st Lt. Richard W. Collins III in many ways, including through the establishment of a scholarship in his name.
The scholarship provides need-based support for undergraduate students at the University of Maryland with a preference for students who are members of Army ROTC, Naval ROTC, and Air Force ROTC programs. This scholarship supports students who honor the life and legacy of Lt. Richard Collins III through a demonstrated commitment to service, strong leadership skills, and good character rooted in integrity and determination.
To be considered for the scholarship, students must complete the Free Application for Federal Student Aid (FAFSA) online. Students must be currently enrolled, degree-seeking undergraduates at the University of Maryland in good academic standing.
The scholarship is administered by the Office of Student Financial Aid. Recipients are selected by a committee led by the Associate Provost and Dean for Undergraduate Studies, in consultation with the ROTC commanders.
About Lt. Richard W. Collins III
In September 2020, Collins was posthumously promoted to 1st lieutenant by the authority of the Secretary of the Army.
Lt. Richard W. Collins III, 23, was an ROTC cadet at Bowie State University, set to graduate and begin his commission in the Army as a 2nd Lieutenant, when he was killed on the University of Maryland campus. The tragedy of his death on May 20, 2017—just days before he would have graduated from BSU with a degree in business administration—was felt by the entire Maryland community. The university honors and celebrates Lt. Collins's life and legacy through this scholarship and the creation of the Social Justice Alliance, in partnership with Bowie State University.
Lt. Collins came from a military family and planned to follow in the footsteps of his father, a retired Navy veteran with 25 years of service, and his grandfather, a Korean War veteran. Lt. Collins was Airborne-qualified and set to become an intelligence officer. As an outstanding leader committed to service, Lt. Collins was a person of strong character who valued hard work, integrity and courage. He was an inspiration to all who knew him.
---
Skyeler Antonino (Recipient 2022)
A native of Kapolei, Hawaii, Skyeler is a senior in the College of Behavioral & Social Sciences where he maintains a 3.74 GPA. He serves as the Army ROTC Operations Sergeant Major, where he is responsible for the execution of cadet field training labs and exercises. He is pursuing a double degree in Criminology & Criminal Justice and Arabic Studies, along with the ACES Minor in the Honors College. LTC Daniel Fass, Army ROTC Commander, notes that Skyeler "creates a positive environment built on trust" and is a "disciplined high achiever dedicated to the mission of being a leader." He embodies the commitment to service, strong leadership skills, and intellect that the Lt. Richard W. Collins III Scholarship seeks to recognize.
---
Joshua Winston (First Recipient 2021)
The first recipient of the Lt. Richard W. Collins III Memorial Scholarship is Joshua Winston, a Germantown native and member of Army ROTC who transferred to UMD after graduating from Montgomery College. Winston is studying for a degree in public policy with a minor in Army leadership. He is president of Black Students in Public Policy, represents the School of Public Policy in the University Senate and Student Government, and works with the Life Skills for Soldiers charity, which seeks to improve the lives of service members with financial literacy courses.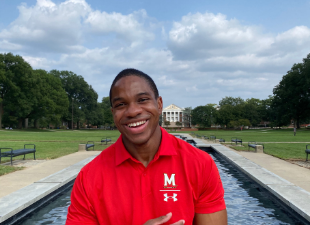 Winston, described by UMD Army ROTC Commander Lt. Col. Marisa Pace as having a "strong character and a selfless heart," hopes to eventually become a foreign service officer.
"I'm proud and excited," Winston said. "It's important for students to realize Lt. Collins's legacy is being recognized. He had a heart for service."
More information