Summer 2018 Newsletter
In Memoriam: Ira Berlin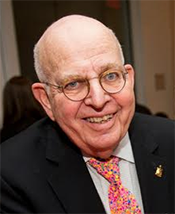 The Office of Undergraduate Studies joins the entire University of Maryland community in mourning the passing of Professor Ira Berlin on June 5, 2018. He was 77.

A renowned scholar of American history, Berlin had a vital role in shaping undergraduate education. Former UGST Dean and Professor Emerita Donna B. Hamilton says, "His broad and deep influence on behalf of students resulted not only from the energy he poured into the cause, but from the extraordinary respect in which he was held throughout the university."

While serving as Dean for Undergraduate Studies, Berlin helped establish College Park Scholars in 1994. The program has flourished thanks to the generous spirit of collaboration that he fostered in all his work, and thanks to the support that he and his wife Martha have given it over many years.

In 2010 Berlin chaired the committee tasked with redesigning the university's General Education Program, and he is remembered for his remarkable service to the campus community and his lasting impact on undergraduate education. We join the Berlin family in celebrating his life and extend our sympathies to all who knew him.