Undergraduate Studies Newsletter, November, 2017
Celebrating First Generation College Students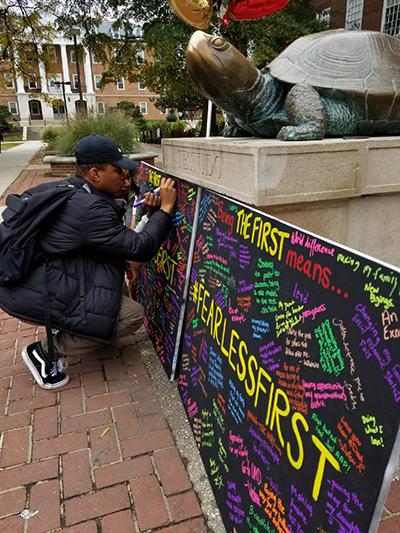 The Academic Achievement Programs (AAP) joined campuses and TRiO communities across the nation on November 8th to celebrate the inaugural First-Generation College Student Celebration with their #FearlessFirst event. The term "first-generation" means students who are the first in their families to attend college. The event attracted "firsts" from across campus, including students who were the first to obtain a graduate degree and the first to study abroad.
AAP staff, positioned outside of McKeldin Library, asked students to share what they were the first in their families to accomplish, and asked first-generation college students to share what being the first means to them. The event was well received and collected responses including "being the first means paving the way," "being first means wanting to change the world," and "being first means doing what I love."
AAP hopes that this event, and events to come, will foster a sense of support and community on campus for first generation college students. For more information regarding the event, contact Christal Dimas at cdimas@umd.edu.