Federal Interns Make Their Mark in D.C.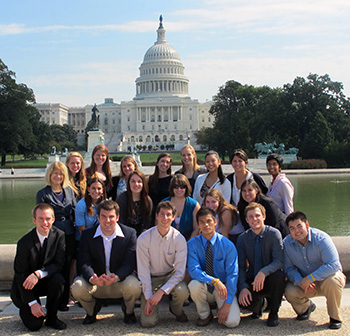 The Federal Semester Program 2012-13 year was an unprecedented success. The program placed a record 78% of its 86 students in federal internships, with the rest at related organizations such as the Partnership for Public Service and the National Peace Corps Association.
This class attracted a diverse array of students — representing 29 majors, 11 minors, and 11 colleges from across the University. The Federal Semester Program brought academics to life in field trips to Washington, D.C. Students met with speakers from Congressional offices, federal agencies, state offices and non-profit organizations to discuss how policy is made and implemented and how to be successful in a policy-related career.
In the fall, the Federal Semester academic seminars featured talks by U.S. ambassadors and other expert speakers who shared firsthand experience and knowledge of crucial issues. These experts represented agencies such as the Department of Health and Human Services, the Department of Homeland Security, the Department of State, the Department of the Treasury, the Federal Bureau of Investigation, the National Institutes of Health, and the National Security Agency, as well as the White House. Networking events and workshops on everything from writing a professional email to making a good first impression at an internship supplemented this academic experience.
This program provides students with an unlimited amount of resources in a wide variety of areas that most other students will never have access to. I have benefited both academically and professionally from this program and can honestly say I feel more prepared to enter the workforce after taking part in this unique and incredible experience.
Anthony Petrella '13, Criminology and Criminal Justice major, with Arabic minor, Federal Semester concentration in Homeland Security
Students applied their newfound practical knowledge during their spring semester internships. "The seminar in the fall provided me with valuable knowledge concerning energy and the environment, the office gave me the resources and contacts to get an internship and hone my professional skills, and my time at the Department of Energy gave me real world experience," said Danny Wolf '15, a Government and Politics major in the Energy and Environmental Policy concentration. Students earned credit for their spring internships either through their major or through the Federal Semester experiential course.
Students in the Foreign Policy concentration capped off their year by attending a lunch meeting arranged by their fall seminar instructor, Foreign Service Officer Raffi Balian, in the exclusive Department of State dining room. Cohort member Jennifer Pearse '14, a Global Development and Diplomacy major, said of this event, "I was able to get valuable advice, network, bounce ideas around and interact with everyone who attended the luncheon. It was a great experience that I will cherish."
The program has begun to develop a strong alumni network. In spring 2013, three Federal Semester alumni were awarded the prestigious Boren Scholarship to facilitate international study. Other students, such as Communications major and Arabic minor Becky Bitar, '13 found job opportunities stemming directly from their Federal Semester internship. Bitar was so successful in her internship at the Foreign Service Institute that she was offered a paid contract position for summer and the office hopes to hire her in a permanent capacity.
Another program alumna, Lindsay Kermisch '14 — an Economics and Professional Spanish double major—converted her unpaid internship to a paid Pathways internship with the Department of State for the summer. She credits the program with her career trajectory:
"The Federal Semester program was great and the best decision I made in college. I'm so grateful the Federal Semester program helped me get my foot in the door at the State Department, and I felt the Foreign Policy Seminar with Raffi Balian prepared me well to work and understand the State Department. My supervisors were impressed with what I already knew and how well I was able to work and adapt quickly."
Global Semester in Washington, D.C. Program Begins in Fall
The success of the Federal Semester Program has inspired the development of a new internship program, Global Semester in Washington, D.C., with a focus on internationally-related internships, co-sponsored by the Office of International Affairs and the Office of Undergraduate Studies.
"We are excited about offering this new global initiative for University of Maryland students," said Dr. Joan Burton, the director of Federal Semester and the new Global Semester in Washington, D.C. Program. "There has been tremendous interest across the university in this innovative global program, and we are looking forward to meeting the inaugural cohort soon!"
The program launches with two concentrations--Science Diplomacy: Science, Technology and Innovation; and Foreign Policy and Security in the Developing World—bringing together students from across the university, including international students.
The Federal Semester and Global Semester in Washington, D.C. programs are open to students of all majors with a 3.0 GPA and 45 credits at the time of application. Students apply in early spring for the following academic year. For information see: Federal Semester and Global Semester in Washington, D.C..
*This article written by Megan Alesia Monserez, National Scholarship Office.